National Technology Day holds special significance for Indian scientific and industrial institutions

On this day, the President of the country honours the personalities for contributing to the technological development of the country.
May 11 is important in India's history for many reasons. On the same day, India conducted a second nuclear test in 1998. For remembering that proud historical day, national technology day is celebrated every year.
Let us know more important events happened on this day

On this day i.e. on May 11, India successfully conducted a nuclear test for the second time in Rajasthan's Pokaran test series. At that time the Prime Minister of the country was Atal Bihari Vajpayee. Two more nuclear weapons were tested in the country two days later. With this test, India joined six countries of the world which have nuclear power. In celebration of this, National Technology Day is celebrated on 11 May. Apart from this, many more important technological revolutions were possible on this day.
Let's know more about them and special things about National Technology Day …
Hans-3 had taken flight
Indigenous aircraft of India Hans flew on this day in 1998. Hans-3 was developed by National Aerospace Laboratories. It was a two-seater light general aircraft. It is used for training pilots, aerial photography, surveillance and environment-related projects.
Trishul missile
On 11 May 1998, the Defense Research and Development Organization (DRDO) last tested the Trishul missile. The missile was then inducted into the Indian Air Force and the Indian Army. Trishul is a ground-to-air missile that responds fast. It is a short-range missile. Trishul was created under India's Integrated Guided Missile Development Program. Prithvi, Akash and Agni missiles were built under this project.

At the world level, India is establishing its existence in all the fields in which technology plays an important role.
This day also reminds us of the anniversary of the power test. Shakti parikshan is a nuclear test which was conducted on 11 May 1998. This day highlights the important role of science in our daily lives and encourages students to adopt science as a career option. Various programs are organized in various technical institutes and engineering colleges to mark this day.
Competitions, quizzes, lectures, interactive sessions and presentations on various aspects of science are organized throughout the country. This day is important for engineers, planners, scientists and others who are engaged in the construction and administration of the country.

Pokhran nuclear test "
Let us talk about some of those power tests, yes, after the nuclear tests, after which the neighbouring countries of India started to believe in the nuclear power of our nation.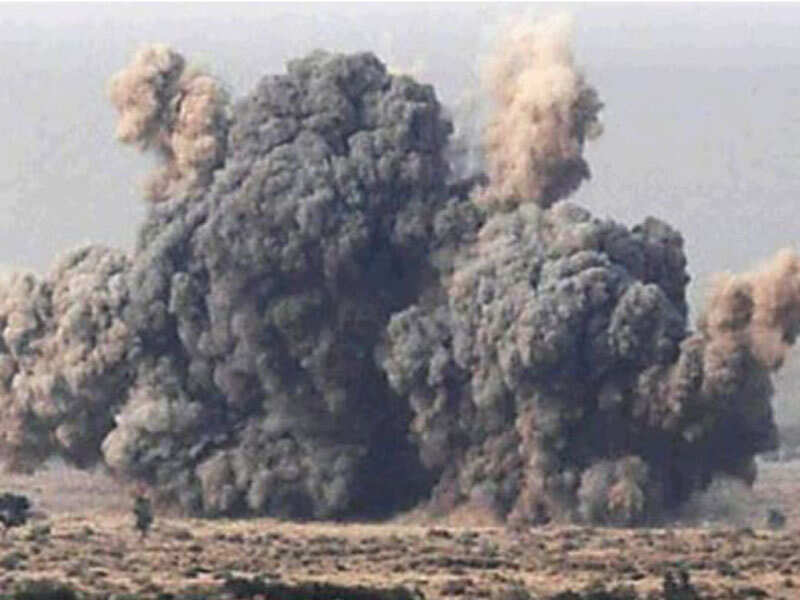 The first nuclear test at Pokhran was carried out in May 1974 with a code called 'Smiling Buddha'. The second test was Pokhran II, a series of five tests of atomic bombings that were carried out by the Indian Army in the May 1998 Pokhran Test Range. Pokhran II had five explosions, the first of which was a fusion bomb while the other four were fission bombs. These nuclear tests led to various sanctions against India by several major countries, including the United States and Japan.
Pokhran II or Operation Shakti was launched on 11 May 1998 with the detonation of two fission bombs and a fusion bomb (in Sanskrit the word "Shakti" means "strength"). On 13 May 1998, two additional detonation bombs exploded. Then-Prime Minister Atal Bihari Vajpayee called a press conference soon to proclaim India as a fully divided nuclear state. Various names were kept while the main name was named as "Operation Shakti-98" and the five nuclear devices were classified from Shakti I to Shakti V. The entire operation was recently called Pokhran II. And the 1974 eruption is called Pokhran I.

History of National Technology Day
National Technology Day is celebrated on 11 May 1998 to commemorate the nuclear test at Pokhran. It is a proud day for all citizens of India. This day also praises the importance of science in our lives. On 11th and 13th May 1998, India conducted five nuclear tests at Pokhran, Rajasthan. The initial five tests were conducted on 11 May when three atomic bombs exploded while recording seismic vibrations on the 5.3 Richter scale. The remaining two tests were conducted on 13 May, since then National Technology Day is celebrated in India.
Why is National Technology Day celebrated?
On 19 May 1998, India successfully carried out the nuclear missile-power-first at the Indian Army's test range in Pokhran, Rajasthan, in an operation conducted by the late President and aerospace engineer Dr. APJ Abdul Kalam. Two days later, the country successfully tested two additional nuclear weapons. After this, Prime Minister Atal Bihari Vajpayee declared India as a nuclear power which was the sixth country in the world to do so and India became the first country to sign the Nuclear Weapons Treaty (NPT) separate from the countries of "Nuclear Club". The NPT is a global treaty signed by Britain, Russia, China, France and the United States with the aim of stopping the escalation of nuclear weapons and achieving nuclear disarmament.
Becoming the sixth nuclear power country in the world was not the only achievement that India had achieved that day. When nuclear tests were being conducted in Rajasthan, India's flagship indigenous aircraft Hansa-3 was flown in Bengaluru. Hansa-3 was developed by National Aerospace Laboratories. It was a two-seater light general aircraft used for flights, sports, pilot training, aerial photography, surveillance and environmental projects.
Apart from all this, on 11 May 1998, the Defense Research and Development Organization (DRDO) completed the last test-fire of the Trishul missile which was then inducted by the Indian Air Force and the Indian Army. The surface-to-air, quick-response, short-range missile Trishul was a unit of India's coordinated Guided Missile Development Program which has resulted in the formation of the Prithvi, Akash and Agni missile systems.
Atal Bihari Vajpayee declared May 11 as National Technology Day, based on the achievements of these immense successes by the engineers, scientists and technicians of the country.
How is National Technology Day celebrated?
Every year the Ministry of Science and Technology celebrates National Technology Day on 11 May. This day is considered a symbol of technological creativity, scientific inquiry and discovery in the integration of society, industry and science. To celebrate this great occasion, various programs are organized in technical institutes and engineering colleges. Presentations, interactive sessions, quizzes, lectures and competitions are also organized. The President of India presents the National Technology Awards to individuals and companies for their contribution in the field of science.
The Minister of Technology and Science also celebrate this day by organizing various types of programs for the development of science in the country. On this day, students of India usually visit various laboratories to get information about the recent progress made in the fields of pharmacy, science and research work. Students also visit various computer labs, nano-technology and technology development centres along with their teachers to gain knowledge about the recent development of these institutions.
Innovation is a source of inspiration for national and global development. In today's world, opportunities and competition have to be shared. The need for technological inventions in agriculture, infrastructure, health care, education and energy has also been discussed. The program centres around the adaptation of new technologies in India to go beyond other countries.

Tips for better organizing National Technology Day in India
India spends about 10% of its money in the field of research and development in Asia and its number of scientific publications is also increasing rapidly. However, compared to other developed countries of the world, our country is still slightly less in science and technology. Although the population of our country is very large, the number of scientists in the country is very less. To empower the country globally, it is necessary to re-establish the tech industry in India to match it with the challenges of the future.
National Technology Day is the best platform to spread awareness about the importance of science and technology for the development and progress of India. Here are some tips to celebrate this day:
Parents should educate their children about the famous scientists of India with their interest. Such knowledge instils the importance of science in children and helps them to choose the right path for their career. Children should be encouraged to participate in science fairs, projects and competitions organized in their institutions. They can also play online science quizzes and games.
People of the country should visit the Science and Technology Museums of the country like the National Science Center, Nehru Planetarium.
News channels should present the importance of science and technology along with living interviews with scientists who have made great contributions to the nation. There should also be a panel discussion on the relevance of science with celebrities in this field.
People should read science-related journals and even encourage others to read about the use of technology in many fields such as agriculture, pharmacy, infrastructure and health.

Also read this
National Technology Day Theme
Every year since 1999, the Department of Technology has recognized National Technology Day by saluting technological innovations which have positively impacted the country. The Department of Technology celebrates this day by selecting different themes every year.
India has discovered some of the greatest scientific minds in world history. Technology is a national obsession whether it is related to building ancient nuclear capabilities or building our own fighter aircraft – Tejas, Indian scientists have expressed that our defence technology is no less than others. India has advanced in technology for defence from space exploration. Let us take some recognized examples of the success of space orbiting the moon in the year of 2008 – Chandrayaan 1, you can see Mangalyaan – a classic example of state-of-the-art, low-cost technology.
India indigenously discovered its leading supercomputer PARAM 800 in 1991 by our passionate scientists, a giant advancement in the supercomputing world. Millions of people in India today are technology savvy and our country is one of the largest markets for tablets, smartphones and computers. A large proportion of Indians and technicians of Indian origin live in Silicon Valley. The whole world still looks to our country for more technological solutions and success.
Also Read This
National Technology Day is an ideal opportunity for citizens to move forward to explore the fascinating world of technology and to find their rightful place as leaders in technological discoveries and scientific development in the world.
In view of the crisis of Corona , more innovation is needed in health technology and biotechnology. The whole humanity is going through a crisis, through the latest technology, such devices should be developed so that any virus threat can be tackled. Such a vaccine should be prepared which can remove this catastrophe. Though the whole world is engaged in this endeavor, but if India takes the initiative and by working in this field first, it can succeed in making good reputation on the world level itself.